Sold: 39 psc
Product Description:
The Xiaomi Mijia 4k Ultra Short Throw Projector (3840x2160) comes with a throw ratio of 0.233:1 and has an ultra-short focal lens design. The projector screen can be placed in the TV cabinet with the size adjusted to fit in. The wall can also be used as the screen and so, it does not occupy too much indoor space. The design also eliminates the cumbersome problem of wires scattered everywhere. The Laser projector itself only needs to be placed 49cm away from the wall in order to deliver 150-inch screen projection. For a 120-inch screen, the distance reduces to 34cm. A 100-inch screen needs a distance of 24cm and an 80-inch screen, a 14cm distance. The laser light inside the projector has a shelve life of 25,0000 hours. That translates to up to 17 years usage if the projector is used for 4 hours daily, meaning the laser is ultra-durable and long-lasting. Picture quality is assured as a result of the use of advanced laser fluorescence display technology (ALPD 3.0). The projector provides a red light ratio of 16% to 18%, wide color gamut, color quasi, with contrast comparable to the laser studio 3000: 1 screen contrast. The light source brightness can reach up to 1500 lumens which are of theater screen level.
Product Features:
4K picture, enjoy the visual sense feast

Throw ratio of 0.233:1

Directly placed in the TV cabinet to cast 80 - 150 inch large screen
Ultra short-focus, only need 24cm from the wall to cast 100 inch large screen, no space, farewell to the screen
ALPD 3.0, cinema-grade laser source technology
3000:1 contrast ratio, vivid image
High-fidelity audio, inverted tube speaker, dual full-range dual-frequency
Intelligent cooling, real-time temperature control fan

Eye protection system
Product Details:
Model 
Xiaomi mijia 4K laser projector
Resolution
4K (3840x2160dpi)
System
Android
RAM+ ROM
2GB DDR3+16GB eMMC
CPU
T968-H
Function
Wifi / Bluetooth
Brightness
1500  Lumens
Contrast
3001:1-4000:1
Throw Ratio
0.233:1
Video Effect 
2D / 3D
Projection Screen Size
50-150inch
Techonogy
DLP
Ceiling Installation
Yes
Keystone Correction
±40°

(

vertical

)

Lamp Life
25000+
Bulb Type
Laser Light Source
Optimum Distance
14cm-50cm
Time to Market
2019
Power
220W
Projector Size
41*29.1*8.8 cm
Projector Weight
7.2kg
Power Consumption
< 300W (highlight mode)
Power Input 
200-240V, 50/60Hz
Standby Power Consumption
< 0.5W
Display Technology
0.47 "DMD
Light Source Technology
ALPD
Operating System
MIUI TV
Dynamic Image
Support HDR
Focus
Electric focus
Customer Reviews
08/03/2019
Venkatesh K.

India
Efficient Product & Delivery
High value product considering most of the visible information is in Chinese. While some are English it's still dominating Chinese interface. While combination of either Apple TV or any android based TV will help use various apps, while you use this just an connecting display projector. Projector on stand alone is amazing , great video and excellent sound, usable interface. Short throw is really space saving and the screen can go enormous. Price is high for just a projector but with the short throw space saving it may be the only option for small Indian rooms. Have to say - Furper pricing and delivery was excellent, have reviewed this product pricing on many national and international sites (with customs risk) and furper was bang on target pricing. Kudos to them.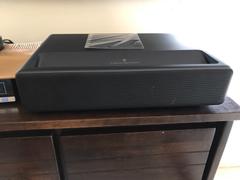 Thanks for the review, please don't forget to share our store with your dear once.
---
Related Products