Sold 62 psc
Product Description:
Product Features:
COMPLETE CREATIVE CONTROL
CONTROL YOU NEED, THE MOMENT YOU NEED IT
TOUCH, TAP, AND TURN IN YOUR FAVORITE APPS
SMART ILLUMINATION
TYPE WITH EFFORTLESS PRECISION
Product Details:
DIMENSIONS
Height x Width x Depth:
32 mm x 430 mm x 149 mm
Weight: 960 g
SYSTEM REQUIREMENTS
Internet connection for software download
USB connection:
available USB port required
Bluetooth connection:
Bluetooth low energy technology ready device with keyboard support required (Bluetooth HID)
Logitech Options on Windows 7 and above, macOS 10.11 and above
TECHNICAL SPECIFICATIONS
Connection support:
Logitech Unifying 2.4GHz wireless technology
Bluetooth Low Energy technology
Software support:
Logitech Options on Mac OS 10.11 and above and Windows 7 and above
Enhanced input dial experience in
Microsoft Word®, Microsoft PowerPoint®, Microsoft Excel® 2010, 2013 and 2016 - Windows only 
Adobe® Photoshop® CC, Adobe Photoshop Lightroom® Classic CC, Adobe® Illustrator®CC, Adobe® Premiere® Pro CC 2017 and above – Windows and Mac
Adobe Reader DC, VLC Media Player - Windows
Preview, Quicktime, Safari® - Mac
Spotify™ - Windows and Mac
Additional features
10m wireless range 2
Wireless encryption 3
On/Off power switch
3 connection indicator lights
Caps lock indicator light
Battery indicator light
Rechargeable with USB type C
Compatible with Logitech Flow enabled mice
PACKAGE CONTENTS
Wireless keyboard 
Unifying receiver 
Charging cable
User documentation
Customer Reviews
06/01/2021
Balaji N.

India
07/13/2020
Kishore M.

India
Premium Keyboard
Beautiful keyboard each key creates a nice tactile feedback sensation, quite comfortable & responsive, what truly amazed me is the volume of the key presses. Each one is nearly whisper-quiet, it features a very nice backlighting (which will **** your charge faster than leaving it off) that automatically switches off when your hands leave its vicinity. When your hands approach the Craft again, the backlighting turns on automatically, which I think is very cool and very handy, especially for dimly lit late-night work. The crown is another part of the equation, and aimed at professionals even though anyone can program it to work with their programs. Since the craft is essentially a Logitech MX Keys with the inclusion of a Crown, it's up to you to decide which one is better for your workflow.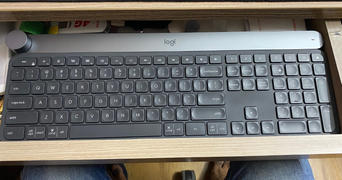 Thank you for sharing your experience
06/22/2020
Francis

India
Best keyboard out there for professionals and creatives!!
First of all, Thanks for making this product available! I absolutely love the Low profile keys. Very nice typing action with high accuracy. Illumination is beautiful. Also dig how it lights up without touching the board, just on approach. I can really rip on this thing. Although, honestly, I'm almost a bit surprised by how well I type on it because at first touch I thought the layout was a bit cramped. Keyboard has an excellent weight to it. It's a solid piece of metal. An outright fixture. The Craft Knob is pretty cool. Haven't dug into it too much yet, but it seems to function well.
Thank-you for your great review, this is one of the best keyboard.
---
Related Products