Please Note - This is discountinued model, check new Xgimi H3 in our store for more detail please contact Mail@furper.com 

XGIMI H1 DLP Projector Home Theater 
XGIMI H1 DLP projector's physical resolution technology allows for 1920 x 1080 true resolution, projecting a massive 300 inch display without sacrificing pixels or details. 900 ANSI lumens provides a stunning viewing experience even during the day. The device runs on the Android 5.1, supports a variety of Android application. Using the DLP technology to ensure stable images and bright. Its high-quality hardware ensures it will meet all of your video, app, and gaming needs.

Main Features:
Uses DLP optical-projecting technology to create a lifelike high-quality movie experience, transforming your home into your very own VIP theater.
Support 2.4GHz + 5GHz dual band WiFi.
Lifespan up to 30000 hours.
Wireless connect with iPhone, iPad, laptop with WiFi, free your hand.
With full HD 1080P resolution, high-contrast LED, and keystone correction system.
A crystal clear 300 inch screen from almost any angle.
Customized stereo system. To create reverberating, theater-quality sound, H1 partnered with harman / kardon to create a customized set of 45mm duo speakers. H1's harmon / kardon speakers produce endlessly vibrant, accurate, beautiful sound, culminating in a superb audio-visual experience. 
We recommend customers to buy this projector from HK Warehouse. It is in stock in HK warehouse and not in stock in China warehouse until the end of December.
The fuselage's own system takes up 1G of memory. 
Parameters:
System: GUMI base on Android 5.1.1
CPU: Mstar 6A928 Cortex-A17 Quadcore ( Physical Freq. 1.4GHz, Optimized Freq. 1.75GHz )
GPU: Mali-760MP4
RAM: 3GB
ROM: 16GB 
Interface: HDMI x 2, USB 3.0 x 1, USB 2.0 x 1, LAN x 1, 3.5mm audio x 1, SPDIF x 1 
Keystone: vertical +35 degree / -35 degree, horizontal +30 degree / -30 degree
Miracast: yes
Airplay: yes
DLNA: yes
Customer Reviews
10/21/2020
rajan k.

India
xgimi h3
I am really happy to do purchase with furper. Though a high value item i decided to go with furper since i had some very bitter experience with amazon. But here every thing went on very well. Within 20 days as the xgimi person told me over phone i got it. The product is excellent. I got it thru a very neat packing. The product is very cheap when compared to amazon , for h1 80,000 Rs and for h2 100000 RS where as furper.com offered it for 89900 Rs. Though it is world wide chinese version only on sale in h3. I made some chages in root as guided by furper person now i am able to go with some limited english version which is more enough for normal handling. Thanks furper.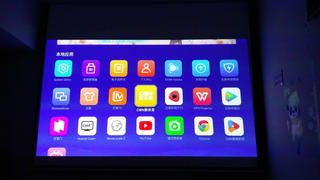 One of the best DLP projector with Full HD, 4k compatible and 3D
One of the best DLP projector with Full HD, 4k compatible, 3D, inbuilt android and many other features. 900 ANSI Lumen is very bright and the projector directly working on my normal wall. HK Speaker is very good for a small room. but i would like this projector without any speaker. Remote is fine. yet many feature not used or tested. overall very satisfied with this projector cons no auto keystone and focus android is very limited. remote should have direct button for the 3D setup not sure about durability and servicing. Furper service is Excellent.
Thank you for your review
Very good
I'm *mostly* going to cover things in this review that HASN'T been covered (or less-covered) by other reviewers around the world already. Picture quality: 10/10 Full HD native, I ran it at 100" initially. Currently running at 200", the quality stays sharp and perfect Gaming experience: 10/10 Taking into account the input lag, (without using dynamic mode, using projector audio; effectively with the highest input lag) Now the reason for this 10/10 is, I am an average gamer just like 95% of the world. There was no noticeable lag or delay as i was led to believe before purchasing this. Don't listen to those dumb reviews, there was absolutely nothing wrong with my gaming experience. Played multiple fast-paced fps (CS:GO, Overwatch) from pc as well as Tekken 7 & the new god of war from a PS4. Lamp life: 30000/10 You can leave this thing on the whole day and go to sleep without worrying about the lamp. Truly the LED bulb is really a relief and a load of your mind. With 30,000 Hours of life it trumps traditional projectors. This is a MASSIVE advantage that people i see are overlooking as just another regular 'pro'. So if you are still deciding on a projector and are doing a pros-and-cons with a traditional projector, realize that this one 'pro' is so big it counts as 10 pros! It will last an average user close to 10 years. The traditional projector will need to have it's bulb replaced SEVEN times before this one runs out. This is assuming you are running them both at best quality bright settings. Now lets say for example you go with a nice benq projector instead. Since i got this for a nice Furper-discount of 68,000, lets put a similar price benq, say the W1050/HT1070A, also full HD etcetc. Price on amazon is 65,000. Now if you are going to run this projector to ONE lifetime of the H1's bulb, you will spend more than anywhere from 100,000 to 140,000 Rupees depending on where you get the bulb. And I do mean 65,000 + 140,000! Yes projector bulbs are expensive, and especially more so in our beloved and beautiful Taxia, oops i mean India. All other pros you probably already know from other videos since they are covered a lot. Some general cons: Colors and contrast settings, IF calibrated right is a 10/10, BUT it is a bit difficult and time-consuming(Sadly this is true for any projector. Out-of-the-box settings are usually garbage) I haven't found a happy medium til now. Every time i think i calibrated it perfectly, and i open up some other program or web page and it looks like it needs a bit more tweaking. The focus adjuster could be slightly better. It is very easy to over-focus or under-focus past the 'perfect' choice but this is more of just an annoyance than a con, and focusing is usually a one-time thing for most users so no big deal.
Xgimi h1
Price is inclusive duties n taxes
love my H1 projector
Best picture quality and colors are so accurate, thanks furper
Amazing Picture Quality
This is my 1st order from furper.com and i'm very impressed by there support, i got my projector in just 4 days in mumbai. Sound is not so impressive by harman kardon. But the operating system and picture quality of Xgimi is top notch.
---
Related Products