Sold 169 psc
Product Description:
Xiaomi Mijia iHealth Digital Infrared Thermometer adopts an advanced German Heimann Sensor for accurate detection. It c
omes with 1-second quick detection. non-contact infrared thermometer, and clear LED digital display, this thermometer to give you a more convenient, hygienic and accurate body temperature measurement.
After one second measuring, there will be a noiseless vibration reminding to be done, more considerate to not disturb your sleeping baby. Concealed LED digital display with clear data, easy to use for the elderly and children. It is powered by 2 x AAA battery.
Product Features:
One second speed measurement / non-contact measurement / Germany sensor / LED screen clear reading
Align the forehead center, one can measure body temperature
1 second speed test, accurate to 0.1 ℃ scale value
When our body temperature exceeds the normal body temperature (36 ℃ -37.4 ℃) when the maximum known as fever.
Mercury thermometer to measure body temperature need to wait for more than 5 minutes, the use of rice iHealth thermometer, just press the forehead press the measurement key, wait for a second to read the results.
Not only measured and quasi-fast, you can immediately carry out the next measurement.
Measured accurately, built-in German thermopile sensor
The accuracy of the measurement is certified by the authority
Mijia iHeatlh thermometer after thousands of repeatability testing, clinical testing, laboratory blackbody test, accuracy by CFDA certification *.
Manufacturers have 16 years of professional manufacturing experience, to meet the ISO13485 and MDSAP medical equipment production professional certification requirements.
Non-contact design, the use of more security and health
Just aiming at the forehead, without touching the skin, the whole family more people share more safe and hygienic.15.5 ° comfortable grip, self-test he measured are convenient15.5 ° angle design, the best measurement angle, to the greatest extent possible to avoid misuse.
Instructions for use:

The thermometer probe aimed at the forehead center, and keep the distance within 3cm (the thickness of the adult index finger for the best distance), do not direct contact with the forehead.
Tap the Measure key "to start the measurement.
After the measurement is successful, the fuselage will vibrate, the screen will show the reading; the measurement fails the fuselage does not shake, the screen displays "- - - ° C"
Product Details:
Specification:
Host size:137mm × 34mm × 39mm
Screen size:25.7mm × 19.1mm
Product performance:
Measuring position: forehead center
Measuring distance: ≤ 3cm
Power supply: DC 3V, 2 × 1.5V AAA battery
Measuring range: 32 ° C - 42.9 ° C
Measuring accuracy: 35 ° C - 42 ° C Range: ± 0.2 ° C Other range: ± 0.3 ° C
Clinical reproducibility:within ± 0.3 ° C
Operating environment range :16.0 ° C - 35.0 ° C ≤ 85% RH 70kPa - 106kPa
Package includes:
1*Warranty Card(only in Chinese)
1*Manual(only in Chinese)
1*Quick guide(only in Chinese)
Customer Reviews
Class Product
Perfect dor tempure measurement
08/22/2020
MANJUNATHA K.

India
Excellent product
Easy & hassle free.
07/23/2020
Mohit R.

India
Simplest way to check your temperature
First of all the packaging is great (no batteries as it ships from China without a pair). Delivery via BlueDart was spot-on. Manual is in Chinese, but there is nothing to learn as such. You simply press this single button and it shows perfect reading. Keeping it pressed longer changes reading from C to F. It's a good product, as expected from mi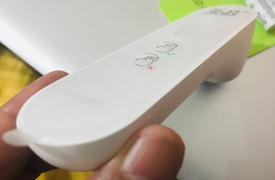 Thanks Mohit for your review, and the picture of your order. Yes most of are using in india temperature in F. In this both options available
07/17/2020
Prashant C.

India
Digital Infrared Thermometer
Out of the box the temperature is displayed in Centigrade. With the help of YouTube videos I have managed to get the display in Fahrenheit which is the scale widely followed in India through a couple of simple maneuvers. The temperature is consistently accurate. Excellent product!
Thank you prashant for your excellent review.
---
Related Products